The treatment of brain aneurysms could be transformed by a software platform powered by artificial intelligence.
Researchers found the programme, called PreSize, was more accurate placing a stent than experienced neurosurgeons.
An aneurysm is a weak or thin spot on a vessel wall in the brain that fills with blood – and they can be life threatening if they burst.
A stent is a mesh tube which springs open to divert blood flow, avoiding extra pressure that could cause the aneurysm to rupture.
The blood should then eventually clot and dissolve.
However, there's currently a "lot of guesswork" in placing the stent, said Dr Katerina Spranger – founder of Oxford Heartbeat, the firm behind PreSize.
Stents are placed using a catheter in the groin and an X-ray is used to feed it through the body, but there are possible complications.
"If the device is for example, undersized, it can detach from the blood vessels and start travelling around the circulatory system of the body, which is huge complication," said Dr Spranger.
"Or if it's oversized, it can almost rupture the vessel."
PreSize gives an accurate image of the patient's brain as well as "digital twins" that behave as a stent would in real life to predict what will happen "if you put a particular device into particular location".
The programme can be used in the operating theatre to try different stents to see which will work best.
"A fraction of a millimetre can make or break a surgery," added Dr Spranger.
PreSize has so far been used in operations involving 375 patients, including in seven hospitals in England and Scotland, and some in Germany, Finland and Ukraine.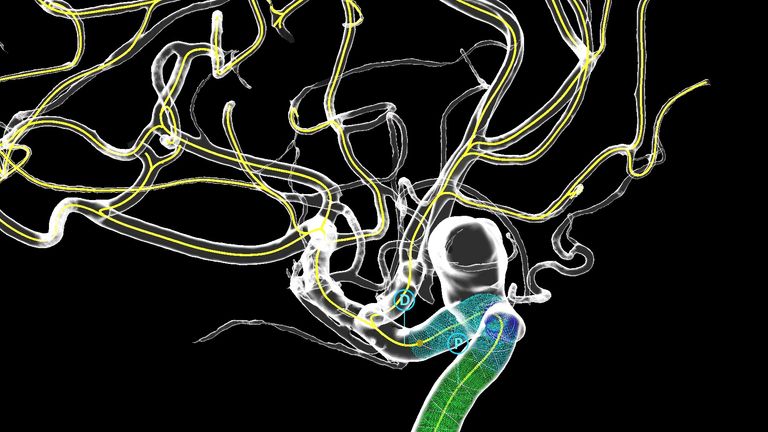 Read more from Sky News:
Gene editing creates chickens resistant to bird flu
British scientist whose work could save millions dies aged 29
The National Institute for Health and Care Research (NIHR) said there was "huge potential for AI technologies to speed up diagnosis and treatment and improve outcomes for patients".
"NIHR is funding a range of AI projects, including this one alongside the NHS AI Lab, to gather the evidence needed to bring this technology to more patients in the future, right across the NHS," it said.
The advantage of PreSize appears significant, according to initial research.
A study in the BMJ Journal of Neurointerventional Surgery found it was more accurate in predicting where a stent would "land" in the brain.
It found human clinicians had an average 81% accuracy rate, while PreSize achieved 95%.
Dr Spranger said more research was needed before any potential wider deployment.
"AI has the potential to revolutionise healthcare, but before we adopt it we must rigorously test new systems," she said.
"Medical device software companies like ours should be held to account to address any distrust about AI."