The director general of MI5 has told Sky News his intelligence officers are "focused with particular intensity" on a growing risk of attacks within the UK following events in the Middle East.
In a rare interview, Ken McCallum said: "Sadly, over the course of my career, it has often been the case that events in the Middle East can then echo in Europe, in the UK, and so my teams are absolutely alert to the possibility that events in the Middle East cause some people in the United Kingdom to attempt some form of attack of whatever sort."
Israel-Gaza latest: IDF hints at 'something different' to ground offensive as Iran issues warning
In his first remarks on the Israel-Hamas war and its global security repercussions, Mr McCallum also told Sky News:
• There is "sharpened concern" of multiple threats – from far-right antisemitism, Islamophobia, Islamist extremism, and rising state-level aggression – predominantly from China, Russia and Iran
• The national threat level – currently set at "substantial" – is under constant review to ensure it remains appropriate
• The world is a "very uncertain place right now"
Mr McCallum was speaking at an unprecedented public gathering of the heads of domestic intelligence agencies from the UK, United States, Canada, Australia and New Zealand in California.
The meeting was focused on the threat of emerging technologies including Artificial Intelligence, but the crisis in the Middle East was the dominant focus on the sidelines.
Mr McCallum said the intelligence chiefs would use the rare face-to-face time to discuss in private what the Hamas attack and its repercussions meant for the world.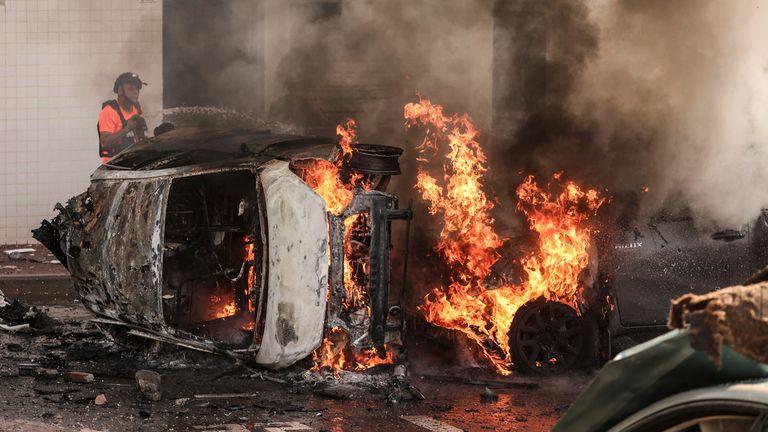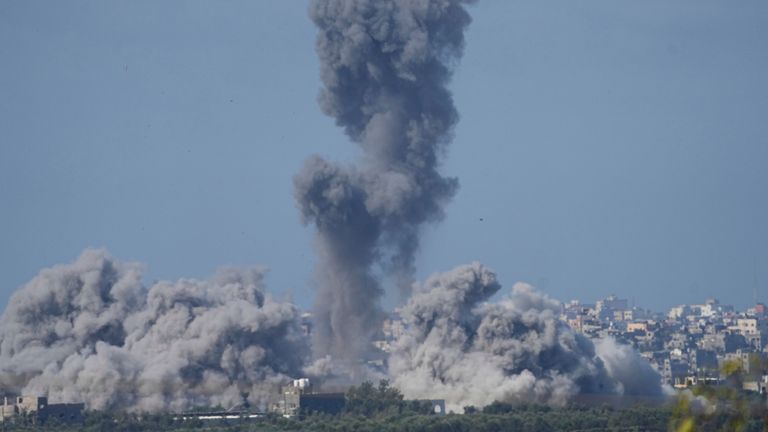 Asked about the threat level in the UK, Mr McCallum said: "The threat level, set by the independent Joint Terrorism Analysis Centre (JTAC), sits at 'substantial', which translates as 'an attack is likely'. So that is already the level at which we sit.
"Clearly there are other levels and the analysts within JTAC will be keeping under review whether that remains the appropriate level."
Pushed on whether it would need to be increased, he said: "I wouldn't want to speculate but if the evidence is there to justify a rise, then of course, that's what those analysts will recommend.
"I spent large parts of my career seeking to detect terrorists plotting in time to get ahead of it. So I am, in effect, always concerned about those risks. But yes, naturally the events of the last two weeks have sharpened that concern still further."
Mr McCallum wouldn't comment on any details about hostages being held in Gaza or on specifics of the level of Iranian involvement in the Hamas attacks. But he did offer some detail on the threat he believes is posed by the Iranian government.
"Iran has been a rising source of concern and a rising source of task for MI5 over the last 18 months or so in particular," he said.
"So that remains very much one of our top priority pieces of business. Clearly, it is possible that events that we're seeing unfold in the Middle East prompt Iran to think in fresh and different ways about what it wishes to do. I wouldn't want to get drawn into speculating on that.
"But we are of course alive to that possibility, while already dealing with a fairly sustained level of hostile activity in the UK, generated by the Iranian state."
Last year, Mr McCallum warned Iran was the nation-state which "most frequently crosses into terrorism".
Read more:
Israel-Hamas war: What is the two-state solution?
Satellite images show homes and infrastructure destroyed in Gaza
On Monday in Brussels, a gunman who claimed in a video message to be a member of Islamic State (IS) and a "fighter for Allah" shot dead two people claiming "revenge in the name of Muslims".
Asked about the potential of an alignment of ideologies between Islamist groups wishing to avenge the killing of Muslims, Mr McCallum said: "It is possible that there could become different alignments between the major groupings that you've referred to, but much of the UK risk won't necessarily be driven by events at that level.
"It will be driven more in slightly haphazard ways by, often, lone individuals self-initiating and mobilising towards some form of violence based on their, sometimes distorted, understanding of what they consume on the internet."
Click to subscribe to the Sky News Daily wherever you get your podcasts
Reflecting on an extraordinary range of threats, Mr McCallum said the Security Service had no shortage of things to do.
"On terrorism, our dominant risk remains the threat of terrorism from those inspired by Islamist extremist ideologies," he said.
"In Great Britain these days, about a quarter of our counterterrorism work comes from the extreme right-wing terrorist individuals.
"And then of course, we still have residual terrorism in Northern Ireland to deal with, alongside which we face rising levels of aggression from Russia, the Chinese government and the Iranian regime in their different ways – so we are not short of things to do."
He added: "The world is certainly a very uncertain place right now."